At Advanced Children's Therapy, we are dedicated to helping Children with Special Needs reach their highest potential.
About us
We started out in 1997 to utilize Hippotherapy to help maximize outcomes. In Hippotherapy, a horse is a dynamic therapeutic modality on which the patient, through automatic reactions, accommodates the 3-dimensional swinging motions of the horse's back. Treatment is prescribed and monitored by a physician and is delivered by a trained Physical Therapist, Occupational Therapist or a Speech Language Pathologist.
In 2002, we established a Network for Independent Providers who share our dedication. And since 2002, we have have been providing support, including monthly Continuing Education to our Providers so we are able to offer Early Intervention services and beyond in a Child's natural environment thru a Network of highly-skilled Physical Therapists, Occupational Therapists, Speech Language Pathologists and Early Intervention Developmental Therapists.
Our Network Support allows Providers to focus on maximizing treatment goals and our reimbursement rates let Providers enjoy the freedom and financial benefits of being Independent.
Today, as we face increasingly stringent regulations amid decreasing healthcare reimbursements, we are incorporating secure web technology that not only helps us meet the latest Security Regulations but also helps us and our Providers streamline business processes thereby reducing actual operational costs.
And the secure web tools built into our Web Services allow our Providers to access multi-disciplinary in-network resources for effective treatment strategies for even the most challenging diagnosis.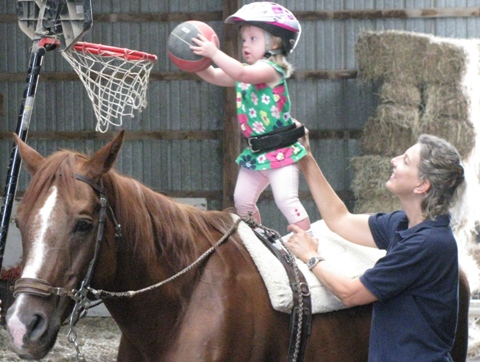 Isabelle slam-dunks her way thru Hippotherapy with Buddy and Judy
Benefits of Hippotherapy include: Improvement in strength and range of motion, facilitation of normal movement patterns including protective extension and righting reactions, development of equilibrium reactions in trunk for improved posture, weight-bearing, balance and maintenance of trunk symmetry, increase in motivation & self-confidence, improved concentration and self-control, improved spatial awareness, better body-image and a sense of achievement.